9:00 AM - 2:00 PM (3 modules)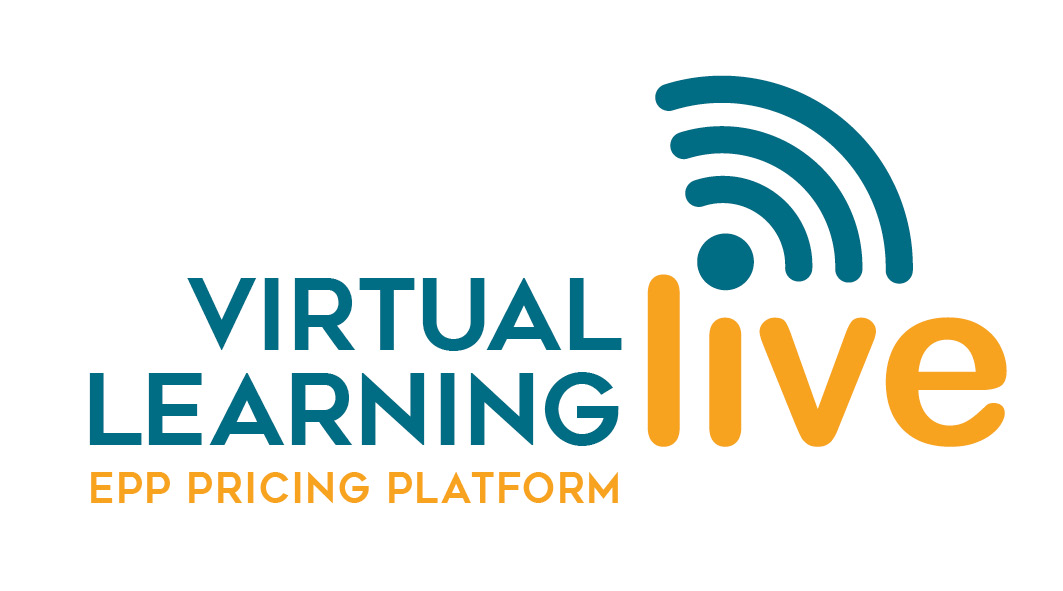 New EPP live-interactive learning programs, to improve your pricing knowledge with high quality content, develop new skills and meet international pricing peers all in the comfort of your own home/office.
After registration, you will receive a unique link to enter the Virtual Learning Training on the agreed time and date.
EPP members get € 100 discount. See all EPP Prime benefits here.
01. What ?
Discover and apply new methods and tools for customer-centric, outcomes-based and profitable subscription based pricing.
Generate during this interactive pricing course a deep understanding of the specialties, the challenges and the potentials of Subscription-based business models and offerings and profit from best practice and actual studies of subscription based pricing.
02. Learning Objectives
Discuss all access-based pricing options

Learn to appraise the best fit pricing plans for your business model

Segment your customer base for subscription offering

Evaluate a 'customized' vs. a tiered (Good-Better-Best) offering

Appraise possible hicks in starting your process

Appraise the optimal price metric for your subscription plan

Determine a value-based price




03. Programme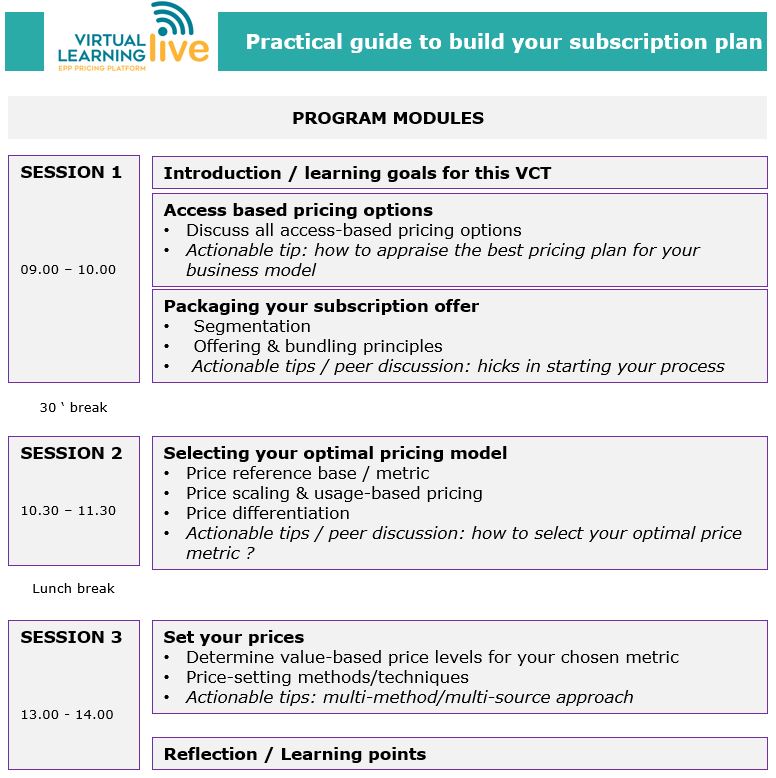 04. For whom ?
This pricing training is for anyone who is working with subscription based pricing model already - and for those who are reflecting to make the change towards a subscription based business model.

• Relevant for participants from all industries offering subscription products and services.
• Managers and experts for pricing, marketing, sales, product management, business development, finance, innovation.
05. Included in the registration fee
The training fee includes :
Course material
Access to live interactive training

If you have special requests, please connect with Ripsime Matevosian : Ripsime.matevosian@pricingplatform.eu
* EPP reserves the right to cancel or postpone events/sessions, or alter the country, location or venue in case of force-majeur, unforeseen circumstances, or if minimum registration numbers are not met. In case of such cancellation, postponement or alteration by EPP, registrants will receive a rollover credit for attendance at the rescheduled sessions. For more information please have a look at our Terms & Conditions.
07. Trainer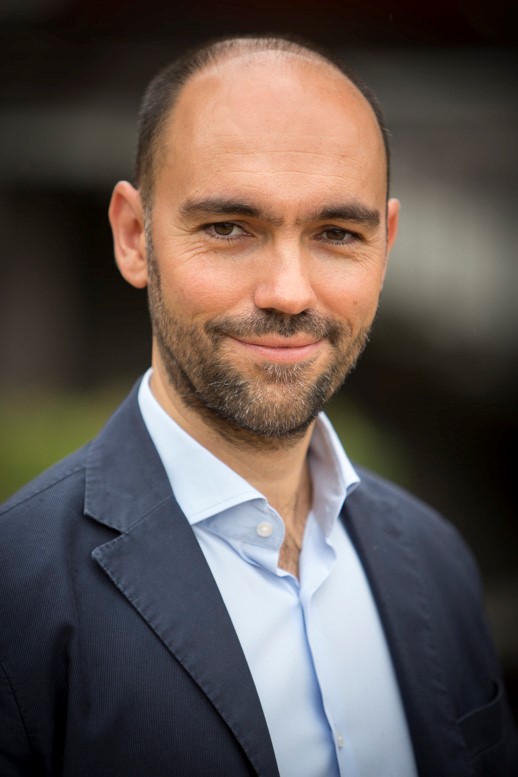 Felix Krohn (

Senior Advisor

,

Former VP Monetization at Wolters Kluwer)
Felix Krohn works as a Senior Advisor in the areas of Digital, Strategy, Innovation, Monetization, and Transformation. Additionally, he is a Coach for Pricing Excellence as well as a Mentor for various start-ups.
Prior to that, Felix spent eight years at Wolters Kluwer, where he advised the CEO on business optimization and growth opportunities and where he built and led a global Pricing & BI/Analytics function.
Felix had joined Wolters Kluwer from Simon-Kucher & Partners (SK P), where he was most recently a Partner and Managing Director for the firm's Spain office. Felix Krohn has a MS c degree in Business Administration from University of Hamburg and attended Clayton Christensen's Executive Education on Disruptive Innovation at Harvard Business School.
9:00 AM - 2:00 PM (3 modules)