9:00 AM - 2:00 PM (2 modules)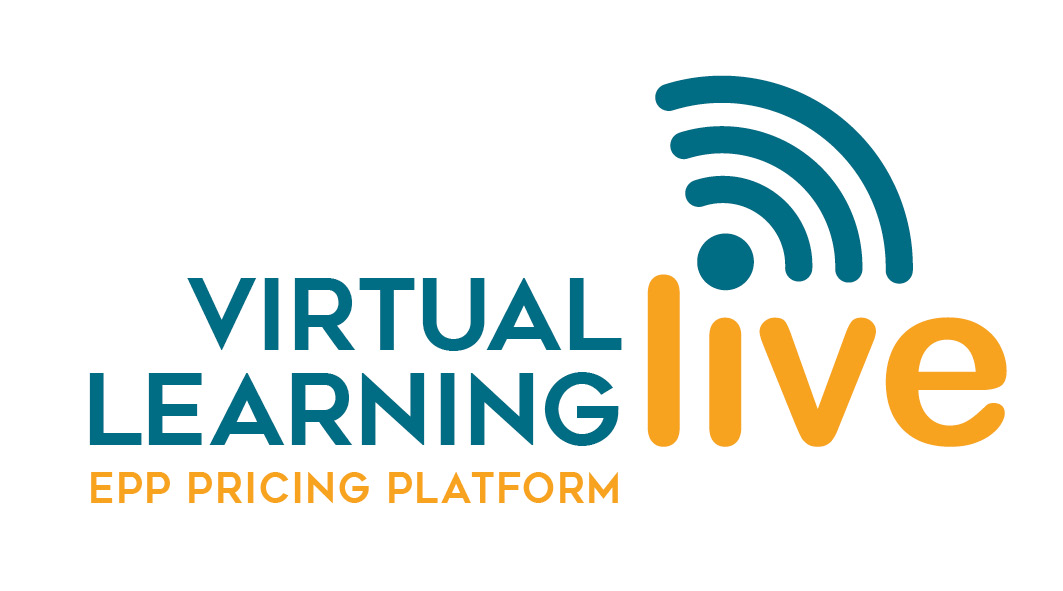 New EPP live-interactive learning programs, to improve your pricing knowledge with high quality content, develop new skills and meet international pricing peers all in the comfort of your own home/office.
After registration, you will receive a unique link to enter the Virtual Learning Training on the agreed time and date.
EPP members get € 100 discount. See all EPP Prime benefits here.
01. What ?
This pricing course is designed to help pricing, marketing and product managers understand the value of their products and services and to communicate it to customers.
This is an intensive and interactive pricing Virtual Class Room with room for discussion and response individual participant challenges.
02. Learning Objectives
Learn methods how to understand the value your products and services provide to your customers (and capture it with your price) Overview
Learn which possible challenges / pitfalls might arise on your value pricing journey (and how to overcome them) Overview, selected examples
Learn from selected examples, how different companies communicate the customer value of their offering (instead of talking about product features)
Learn from selected examples, how sales reps can be enabled to sell the customer value (and less on price)
Get to know selected tools to better bring the Value mindset into the organisation
How to train sales reps to sell value.




03. Programme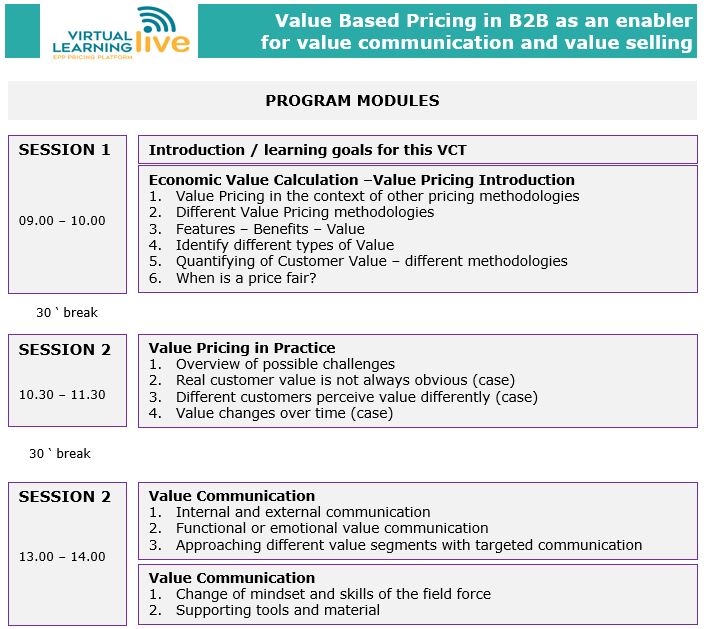 04. For whom ?
Key account manager
Sales Managers
Marketing managers
Product managers
Pricing managers
Everyone involved in B2B Value Communication
Everyone involved in B2B Value Selling
05. Included in the registration fee
The training fee includes :
Course material
Access to live, interactive training

If you have special requests, please connect with Ripsime Matevosian : Ripsime.matevosian@pricingplatform.eu
* EPP reserves the right to cancel or postpone events/sessions, or alter the country, location or venue in case of force-majeur, unforeseen circumstances, or if minimum registration numbers are not met. In case of such cancellation, postponement or alteration by EPP, registrants will receive a rollover credit for attendance at the rescheduled sessions. For more information please have a look at our Terms & Conditions.
07. Trainer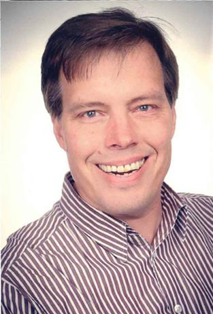 Ingo Hennecke is the Global Pricing Lead for Tailored Solutions of Bayer Crop Science and driving numerous Pricing Excellence initiatives for more than 10 years. Prior to his current position, he was responsible for global customer management projects, heading the operational business in Austria and managing some of the company's major brands.
With more than 30 years of experience in managerial positions, Ingo is a highly recognized in-house consultant and trainer for the sales- and marketing organisation and a regular speaker at international summits.
Ingo has achieved his Certified Pricing Professional (CPP) designation in September 2012 and his Change Agent in Pricing (CAP) certification in 2016. He can be reached at ingo.hennecke@bayer.com.
9:00 AM - 2:00 PM (2 modules)