The EPP Certified Pricing Manager® programme is the only officially recognised pricing certification programme in the world with certification based on real business project succes, designed for experienced and highly accomplished pricing practitioners seeking personal career advancement and professional recognition.
Rewatch the webinar "Everything you need to know about the Certified Pricing Manager Programme"
CPM is the global standard for pricing certification.
The Certified Pricing Manager® programme is specifically designed around the organisational and personal skill cards to perform on the different pricing maturity levels. No other programme is so comprehensive and practical. You can assess your pricing maturity using the EPP Pricing Maturity Indicator (PMI®).

The EPP CPM Programme curriculum combines width and depth, theory and practice, hard skills and soft skills. The idea is to make a real impact on the pricing maturity development in your organisation. The EPP CPM programme is not only an intensive executive programme. It is also an intense all-round experience with a group of international and cross-industrial talented peers. Certification is based on real business project success.
The programme is designed around the pricing maturity levels ;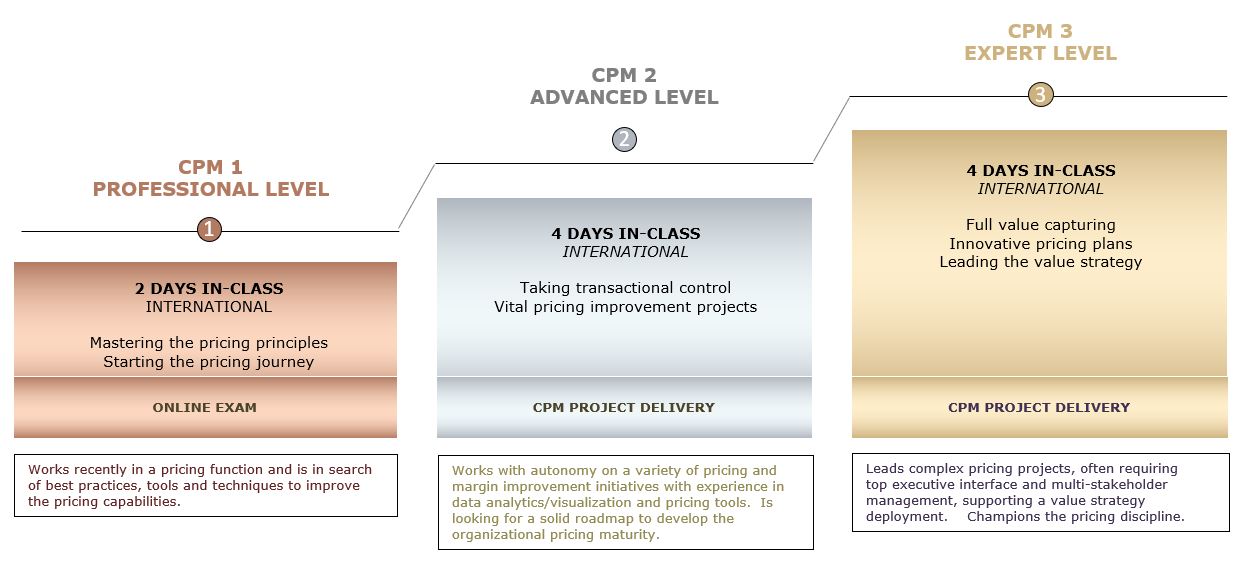 CPM 2 and 3 programmes consist of an intensive 5 days in-class training in an international setting with cross-industrial pricing colleagues - all eager to learn, reflect and discuss with you. CPM2 and CPM3 maturity requires different priority settings, process-, organisational-, tools- and skill set requirements to excel. It's a demanding programme but the reward is that you will grow both as a pricing expert and as a pricing leader.

For a more in depth reading, please download the Pricing Maturity Playbook - Crossing the Pricing Chasm
---
CPM programme canvas overview :