Resource Download
EPP Thought Leadership Series 1/2023
Edition 1/2023: Revenue Management Today and Tomorrow
In 2022 Kantar XTEL conducted the 2nd edition of a global study with FMCG's highlighting how a holistic approach to RGM can balance the impact of multiple levers on the P&L.
The study aimed to understand the persistent challenges affecting FMCG organisations and how they have manifested the different responses to consumer pressures, what FMCG leaders' perceptions are of the structural changes they have seen, and their opinions on how the sector may change in the future to safeguard profitability and the top three investment ambitions for the future.
The EPP® Thought Leadership Series provide insights from pricing leaders around the globe. When a new insight breaks, these pricing leaders already think of the unanswered questions and the story behind the story. These people want to inspire you to act - to take the next step in your journey. With these series, we help to take the right actions.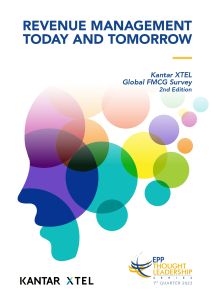 EPP Prime+ Required to access this resource
Join EPP Prime+ now and get direct access to the best resources, weekly updated with new content, webinars, dynamic talks, tools from the EPP Community.
Subscribe your team and benefit from important group discounts