EPP Resources
Digital Hub - Webinars
The latest handful of offerings from EPP.
EPP Prime members get access to all our recorded webinars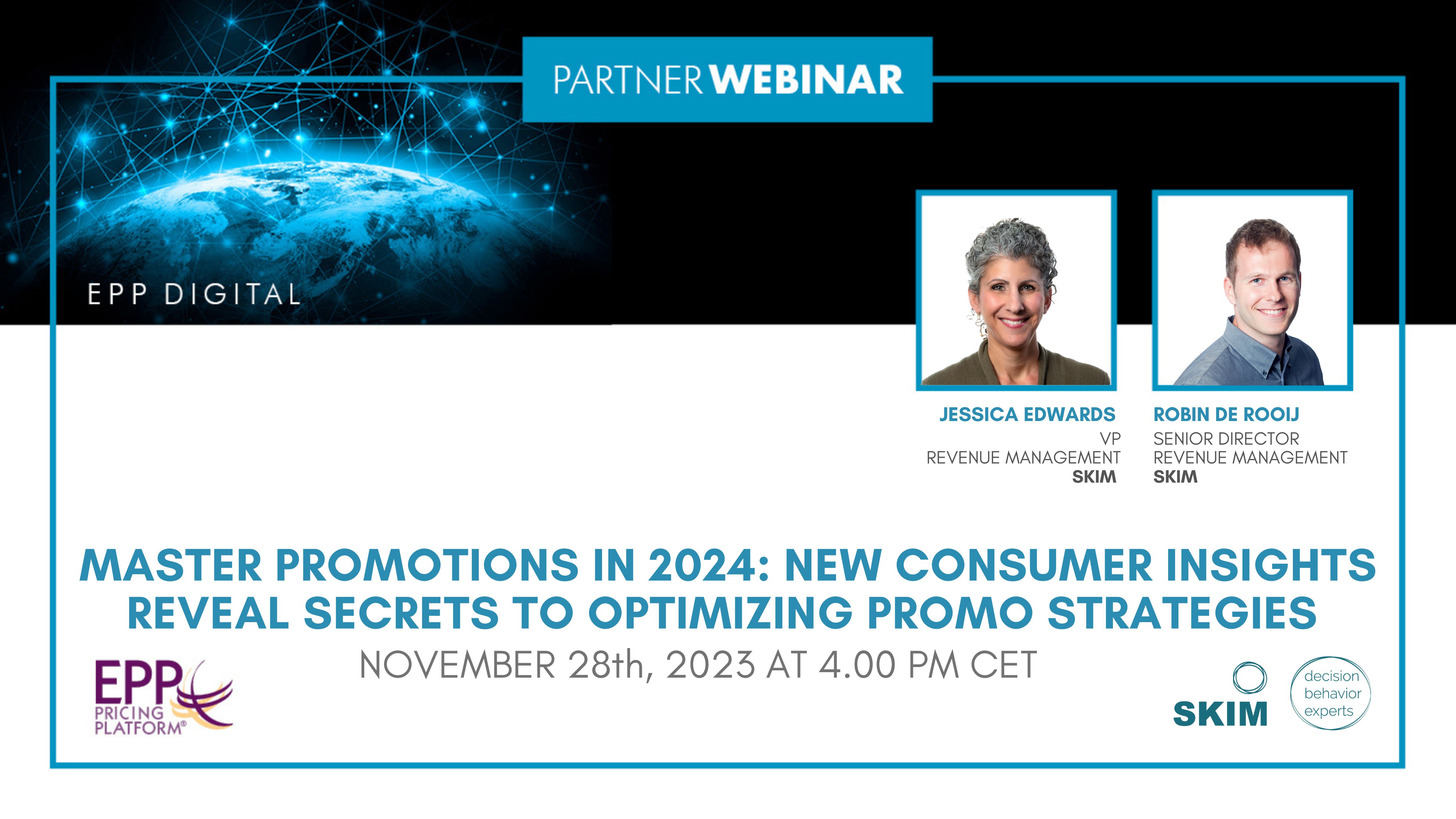 Master Promotions in 2024: New consumer insights reveal secrets to optimizing promo strategies
Have you hit a ceiling when it comes to price increases? Feeling the strain on your volume growth and bottom-line? Considering promotions to drive growth, without sacrificing profits?

If there's a growing sense of urgency to dial up promos in 2024, join this webinar to learn how to effectively command the "promotion lever" with precision and certainty.

The key to optimal promotions strategies which drive incremental value, is understanding and predicting consumer behavior.
Given today's market dynamics, SKIM's revenue management practice conducted new research to explore shifting price perceptions in Europe.

Join us to hear these insights and the promotion secrets to creating a win-win-win for your company, retailer and consumer.

Key takeaways:

• New consumer insights on how promotions influence purchasing decisions across multiple FMCG categories
• Key consumer behavior "considerations" to incorporate when devising an effective promotion strategy
• Where and when promotions should best be utilized to drive a healthy business for you and your retail customers
• Which promotion attributes best drive conversion from consideration to purchase, across channels.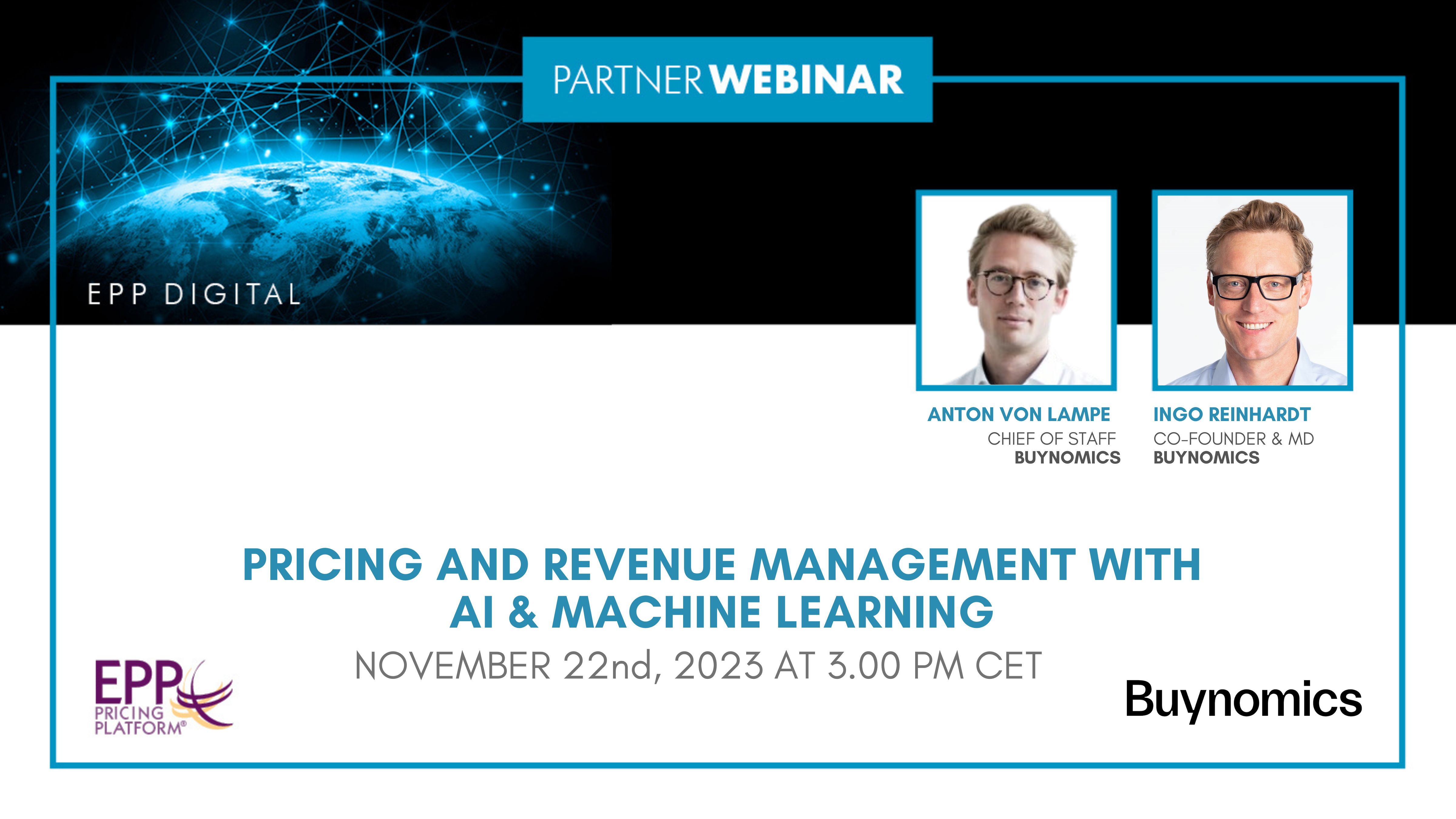 Pricing and Revenue Management with AI & Machine Learning
Digitization is taking over the corporate world by storm. However, pricing remains in the pen-and-pencil era. Many companies still use static elasticities and Excel models, which fail to capture the complexity of real-life challenges. Worse yet, better technology is available but is not being leveraged sufficiently. In this webinar, we will explain how new technology can help unleash value for your team. Join us to learn more about using AI and machine learning for pricing and revenue management and how you can leverage them for better, faster outcomes.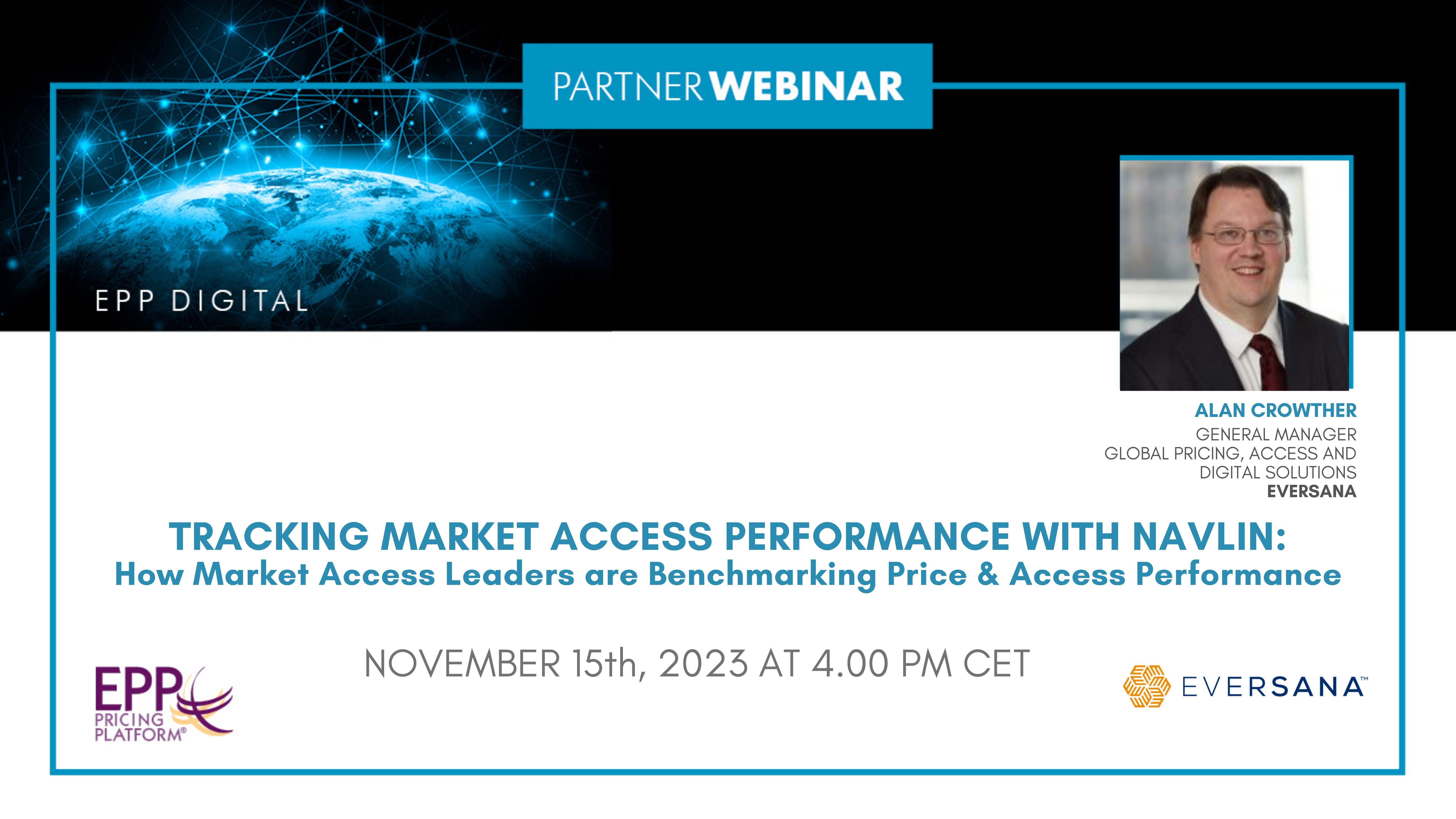 Tracking Market Access Performance With Navlin: How Market Access Leaders are benchmarking Price & Access Performance
Having a strong data and analytical basis for analyzing, benchmarking and sharing insights in informative, graphical and predictive ways can help market access teams perform better and communicate more effectively and drive to greater success. 
What are critical KPIs to be tracking in market performance?

 

How can you benchmark your performance against competitors or industry standards and analogs?

 

How can you predict competitors' performance in launch and use that in your own plans?

 

How can you use market access KPIs and data to identify payer differences across indications and anticipate challenges in your launches and indication expansions?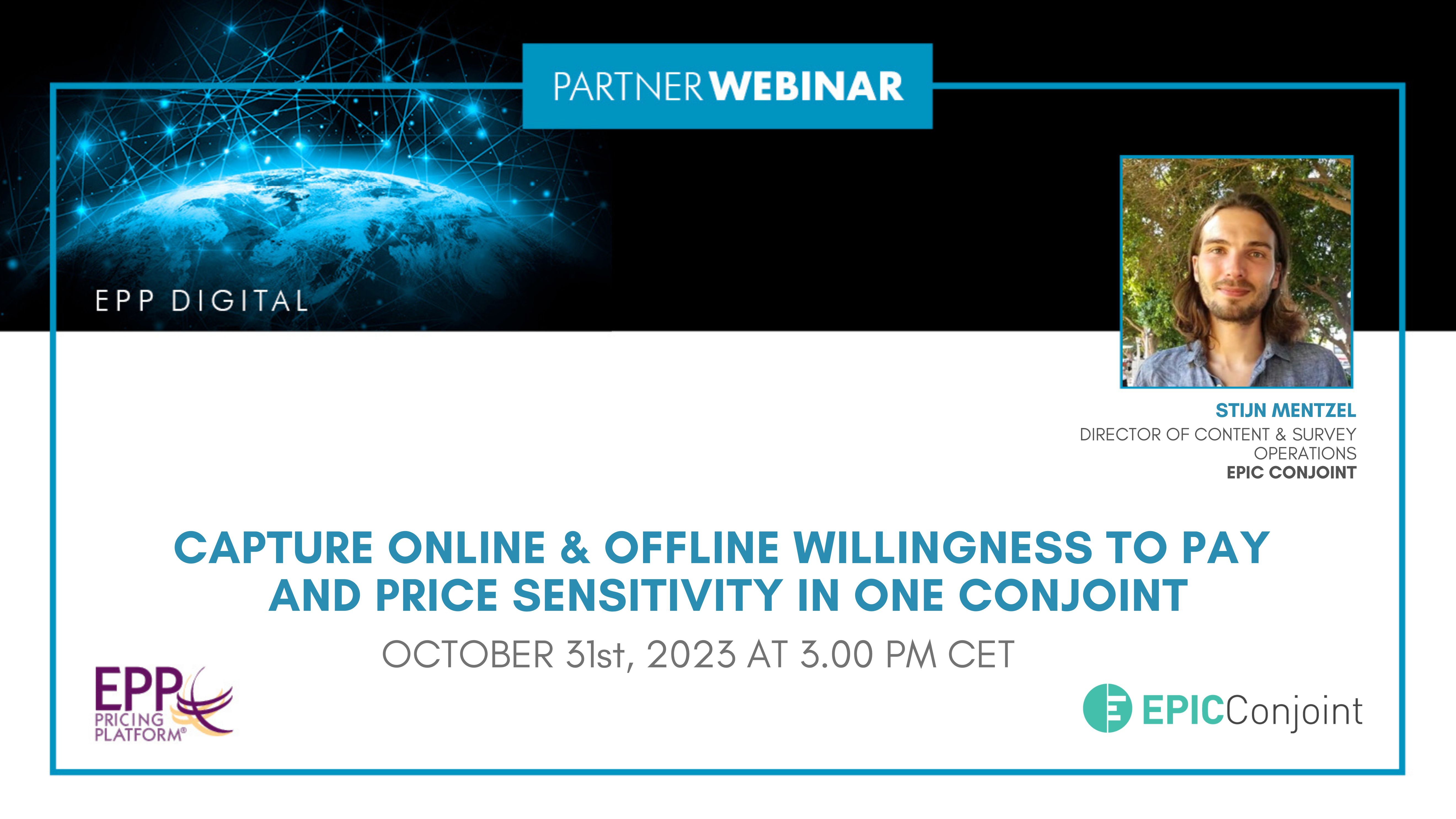 Capture Online & Offline willingness to pay and price sensitivity in one conjoint
As shoppers purchase online in increasing numbers, they can display different preferences, needs, willingness to pay and price sensitivity versus instore. EPIC Conjoint's new Online + Offline rapid conjoint solution allows companies to capture all the aforementioned in just one conjoint survey. This webinar will provide insights on:
• How much customer preferences differ between online and offline and why
• Whether products are more likely to be purchased online versus offline
• If customers are willing to pay more or less online
• Does price sensitivity differ by channel
• Are price promotions more effective online versus offline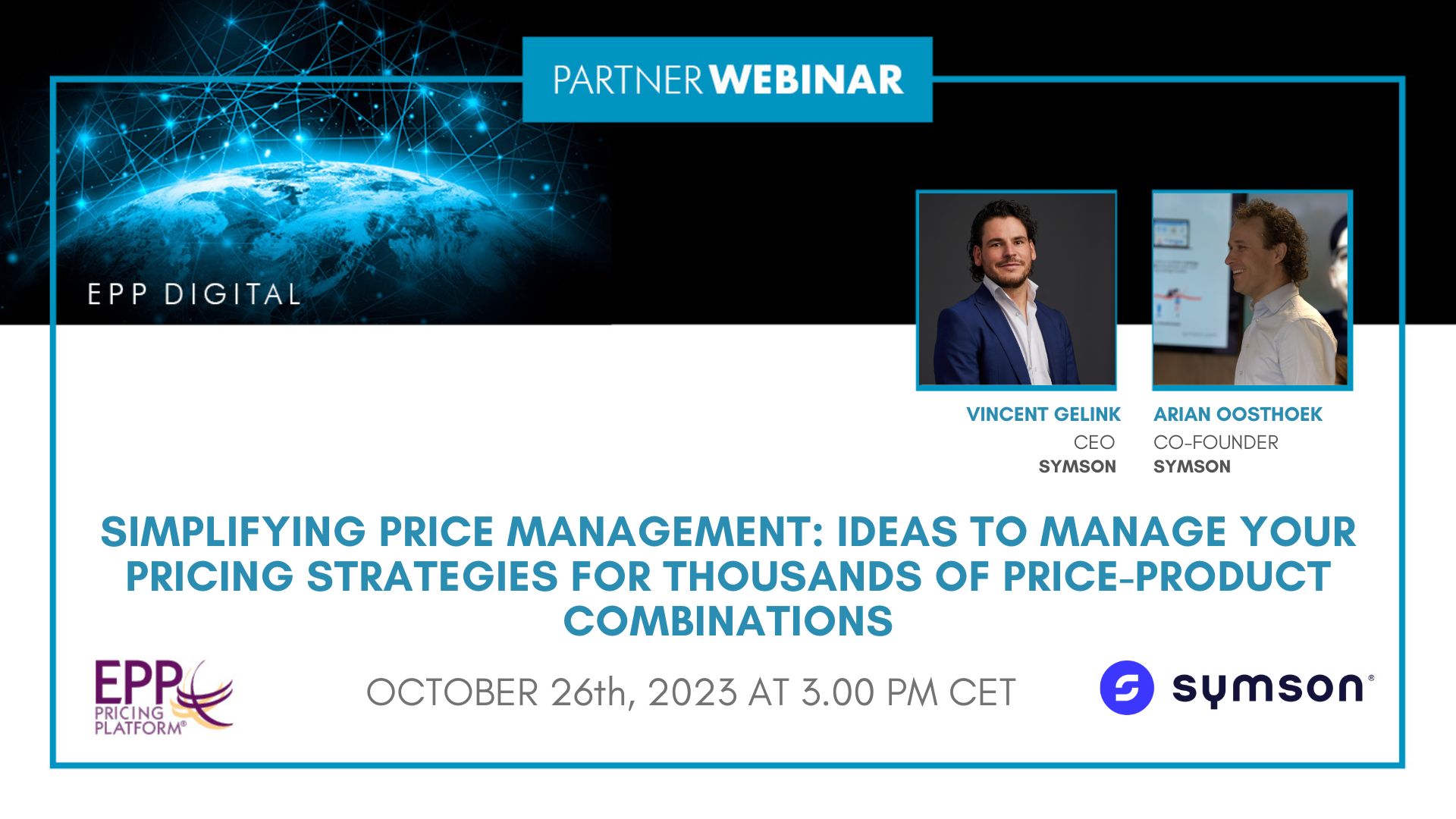 Simplifying Price Management: Ideas to Manage Your Pricing Strategies for Thousands of Price-Product Combinations
Are you tired of spending countless hours grappling with manual tasks and drowning in a sea of frustrating Excel sheets while managing pricing strategies for a vast array of product combinations? If this is you, look no further! Join our transformative webinar, "Simplifying Price Management: Ideas to Manage Your Pricing Strategies for Thousands of Price-Product Combinations,". In this webinar, we will explore the challenges of price management and unveil powerful solutions that pricing software can offer. Discover innovative ideas and strategies to streamline and optimize your pricing processes, ultimately enhancing your profitability and competitive edge.

Our seasoned pricing experts will guide you through a comprehensive journey aimed at simplifying and streamlining your price management processes. We will explore innovative techniques and cutting-edge tools designed to revolutionize your approach to managing complex price-product combinations. Say goodbye to manual calculations, data inconsistencies, and spreadsheet nightmares, and embrace an efficient, automated pricing system that maximizes profitability and minimizes effort.

Key takeaways from the webinar:
1. Understanding the complexities of managing pricing strategies for diverse product portfolios
2. Overcoming common pain points associated with manual tasks and Excel sheet overload
3. Exploring advanced pricing strategies tailored to your unique business needs
4. Leveraging technology to automate pricing calculations, data analysis, and decision-making
5. Implementing best practices for accurate pricing, revenue optimization, and competitive advantage
6. Real-life case studies showcasing successful price management transformations
7. Q&A session with our experts to address your specific challenges and concerns

Don't miss this opportunity to gain valuable insights and strategies to elevate your price management approach.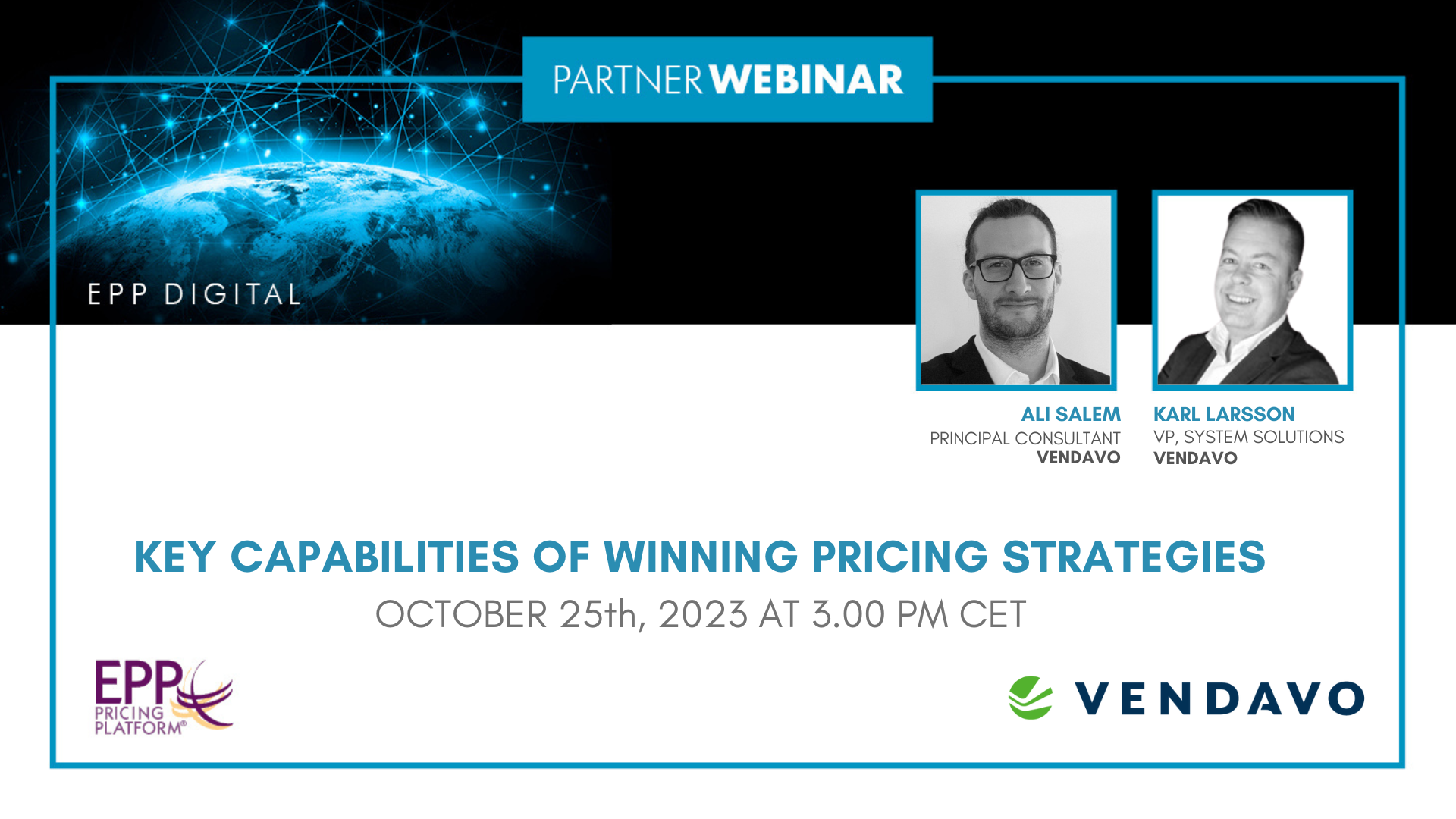 Key Capabilities of Winning Pricing Strategies
Pricing managers have conflicting edicts with other functional teams. If you can't centrally control your strategy it becomes piecemeal, multiple business units run clashing strategies, and frustrations become obvious. Understand your pricing decisions with bespoke price diagnostics, the ability to isolate and evaluate your pricing strategy and tactics, and centrally manage and rollout your pricing across the entire organization.

• Discover key solutions can help you design, control, and manage pricing strategies and increase profitability
• Learn how to use insights proactively to make better business decisions
• See applications of how companies have optimized and improved their organizations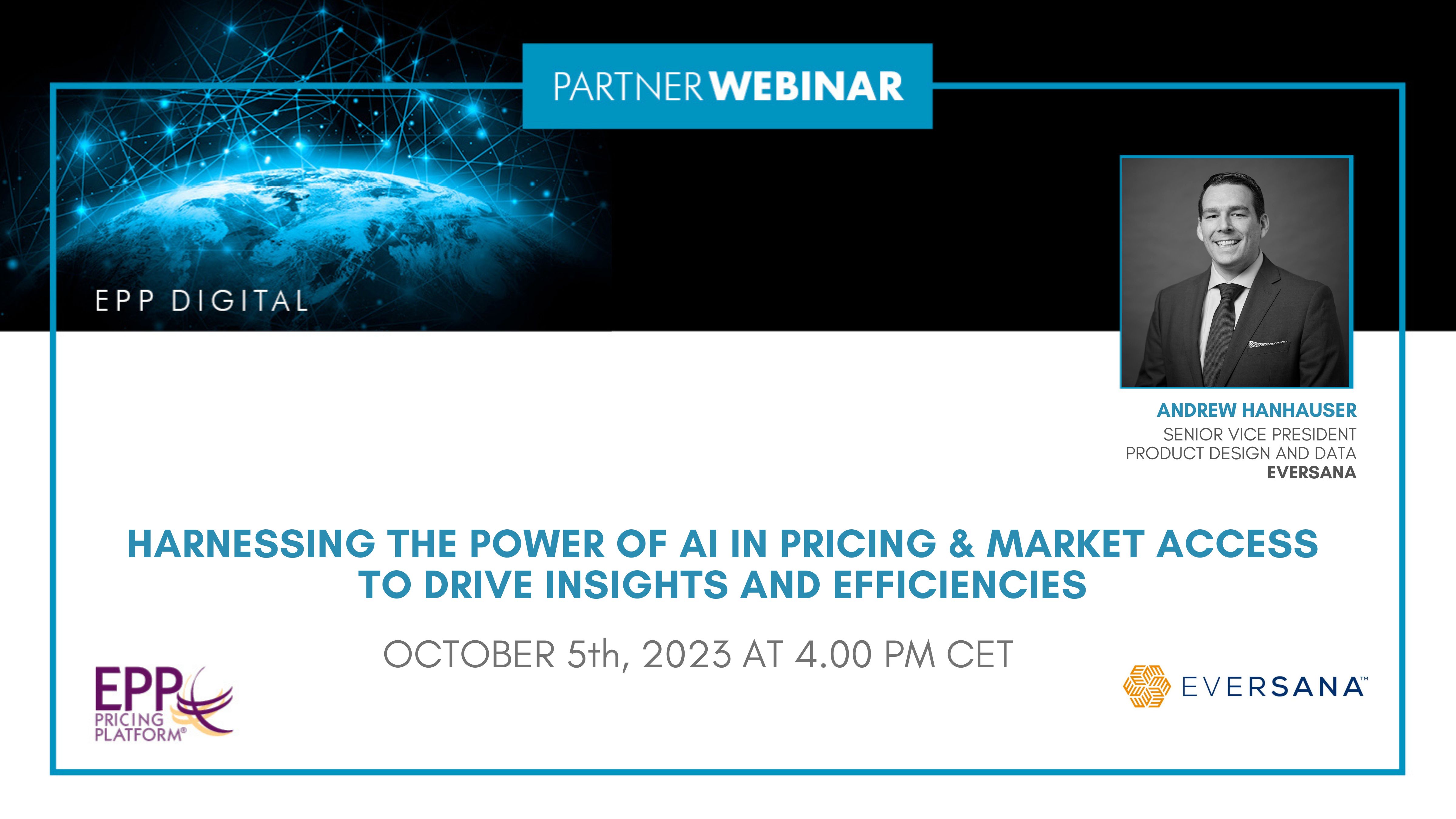 Harnessing the power of AI in Pricing & Market Access to drive insights and efficiencies
Explore how AI can revolutionize the way you access pricing and access information, making it simpler, faster, and more convenient than ever before! Plus, we will deep dive into how organizations are leveraging NAVLIN's Analogue ID to identify analogues, leveraging key market access data such as: Pricing, HTA, Clinical, key data, regulatory, news, and more!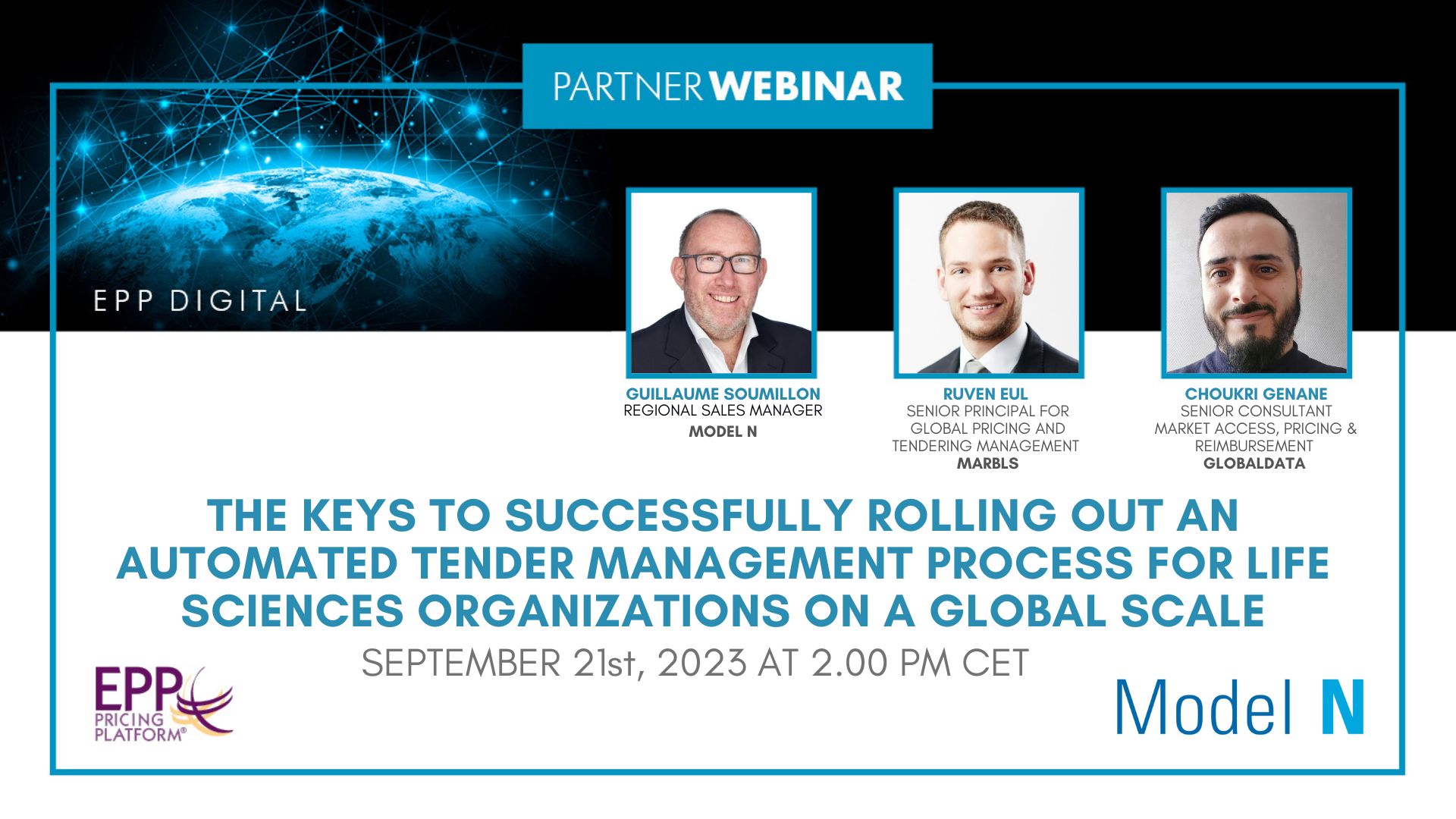 The Keys to Successfully Rolling out an Automated Tender Management Process for Life Sciences Organizations on a Global Scale
Healthcare providers and governing bodies rely on procuring Life Sciences products via the tendering process. With 80% of medtech and 40% of pharma revenue derived from tenders outside of the United States, it's clear that having a clearly defined and well-managed tendering process is a critical process for all Life Sciences organizations. Manual processes and disconnected spreadsheet-based tools can result in inaccurate projections and hamper efforts to create competitive tender offers.
Join experts from Model N, Marbls, and GlobalData as they discuss the need for proactive tender management and cross-country collaboration, and standardization of the tender management process. Our presenters will share strategies to improve the end-to-end process and increase visibility across the entire global organization. Register today to learn how a GTM solution can be part of your company's strategic plan.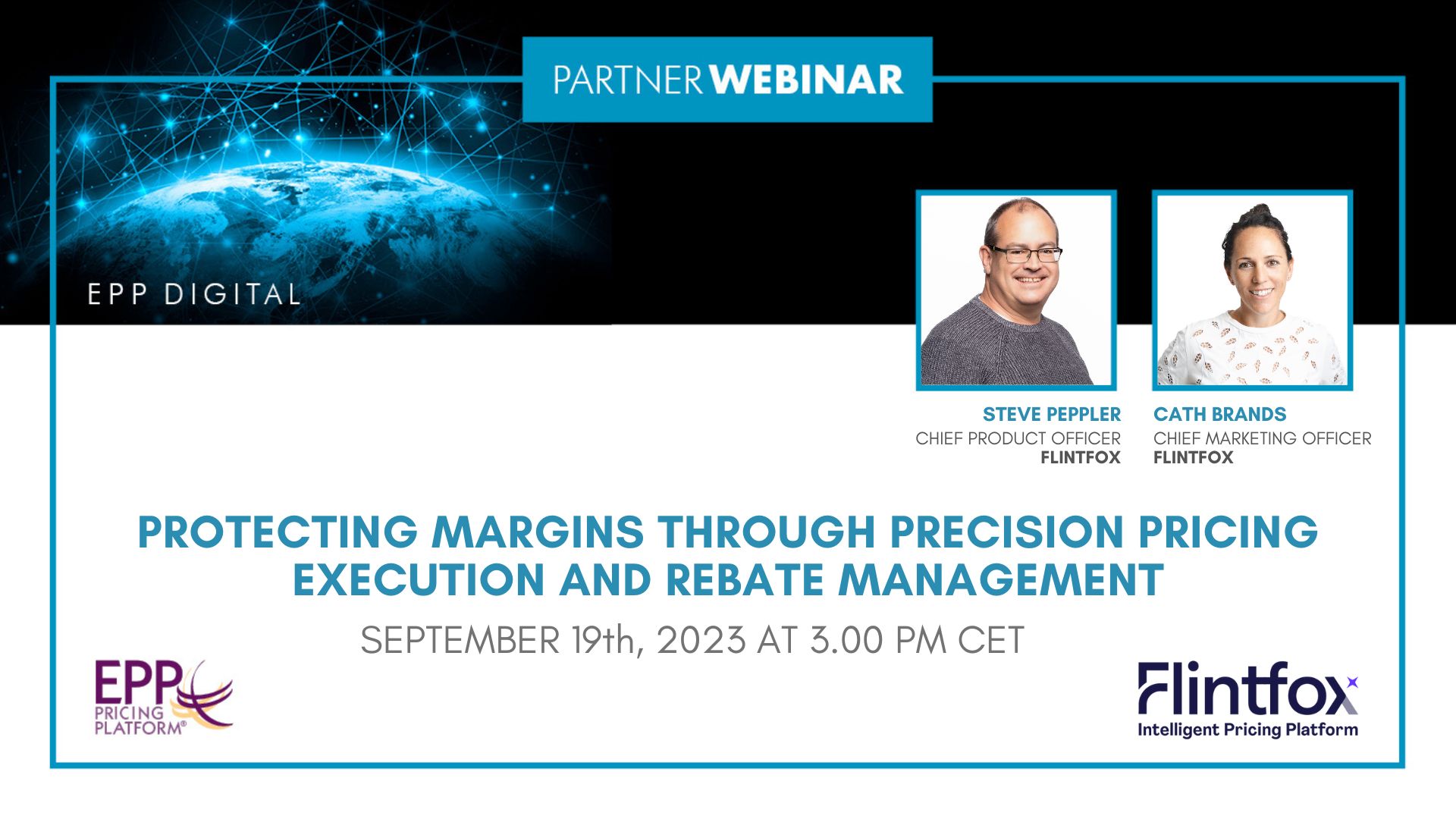 Protecting margins through precision pricing execution and rebate management
With inflation at record-breaking highs across the globe, manufacturers have never been under greater pressure to protect their margins and stop revenue slipping through the cracks. Rebates have the power to boost sales and strengthen customer relationships, but when not managed properly can also be a cause of added friction and lost income. Join this webinar with Flintfox's Steve Peppler, Chief Product Officer and Cath Brands, Chief Marketing & Innovation Officer to discover how intelligent automation can streamline the rebate process from start to finish - improving relationships and eliminating revenue leakage.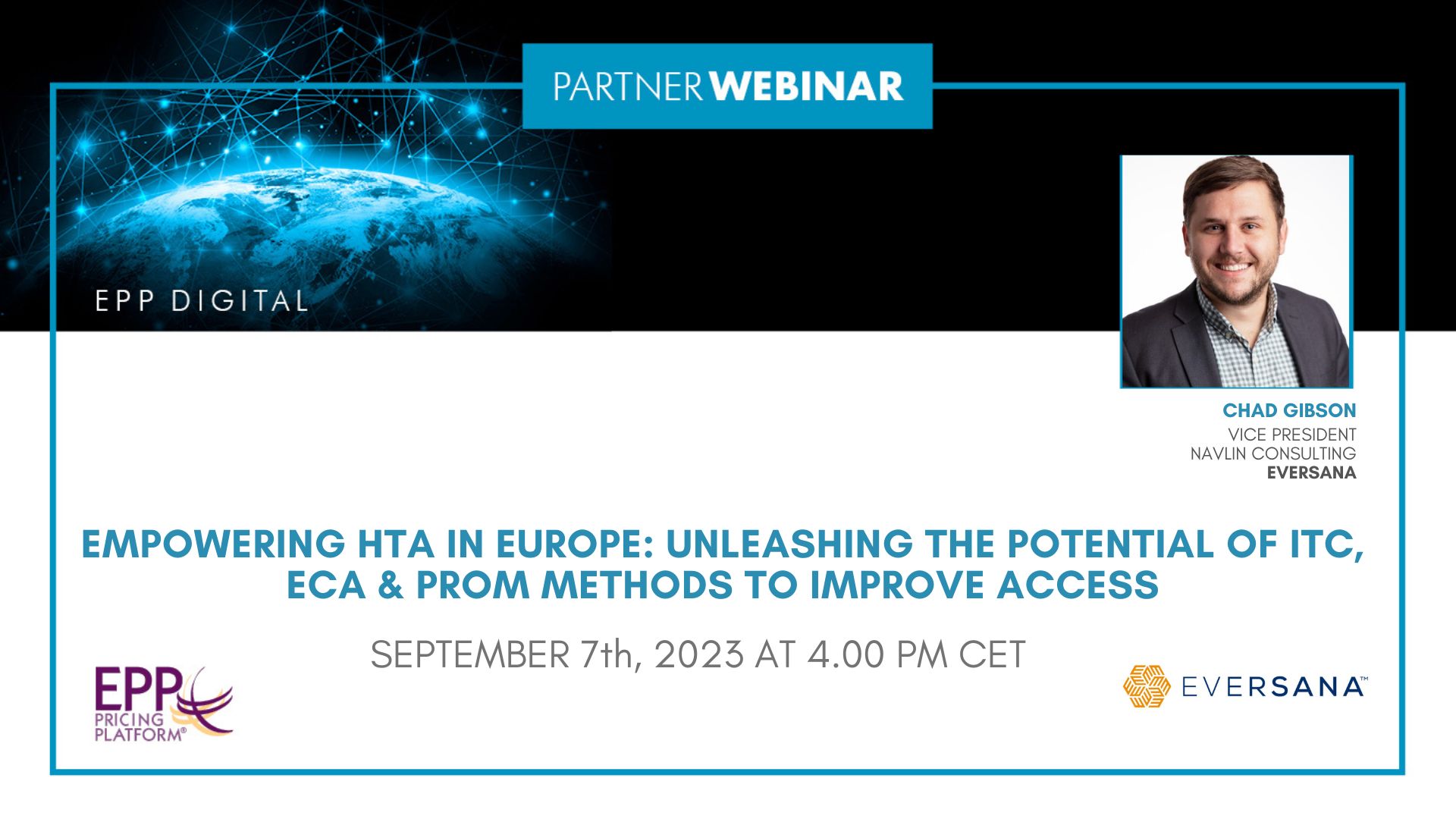 Empowering HTA in Europe: Unleashing the Potential of ITC, ECA & PROM Methods to Improve Access
Randomized controlled trials (RCT) with concrete clinical endpoints are the gold standard on the hierarchy of medical evidence. However, there are many circumstances where RCTs are not feasible to conduct, particularly for oncology and rare diseases, and ITC/ECA can be crucial to validating the value of a treatment. As well, concrete clinical endpoints in certain indications can be difficult to quantify and ultimately insufficient to truly demonstrate the impact of the treatment, leading to the need for support through patient reported outcome measures (PROM). In this webinar, we will discuss the growth in these alternate evidence methods, the receptiveness of the key HTA bodies through case studies and ultimately, what manufacturers can do to harness the power of these tools.