Resource Download
EPP Thought Leadership Series 2/2019
Edition 2/2019

: 7 Steps for Success in Tender Management
Change and taking action usually starts with either inspiration or desperation. You could be inspired and intrigued by the opportunities and possibilities that something offers. Or you are desperate and disappointed about the fact that things do not go the way you want them to go and you are almost forced to change something. This also applies to Tendering.
 The EPP® Thought Leadership Series provide insights from pricing leaders around the globe. When a new insight breaks, these pricing leaders already think of the unanswered questions and the story behind the story.  These people want to inspire you to act - to take the next step in your journey. With these series, we help to take the right actions.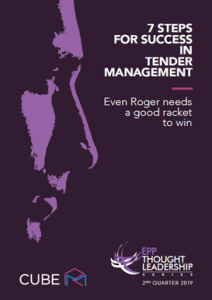 EPP Prime+ Required to access this resource
Join EPP Prime+ now and get direct access to the best resources, weekly updated with new content, webinars, dynamic talks, tools from the EPP Community.
Subscribe your team and benefit from important group discounts