Resource Download
EPP Thought Leadership Series 1/2020
Edition 1/2020: How restaurants and food service companies can boost their revenues and occupancy, with the effective use of data analytics
Food Away From Home (AFH) sales in the European Union have reached almost € 600 billion per year; figures that increase year over year and that represent approximately 7-7.5% of the overall European expenses.
The industry is rushing, bringing new players in the field, facilitating consolidation, showing a fostering trend of internationalization similar to the one already experimented in the fashion industry. But with millions of customers eating out or ordering online every day, where does the industry stand in the use of data, to support its growth?
This paper aims to define a possible project plan that companies in the food industry can follow to deliver immediate revenue benefits to their business and enable their companies to compete in a more and more sophisticated battlefield.
The EPP® Thought Leadership Series provide insights from pricing leaders around the globe. When a new insight breaks, these pricing leaders already think of the unanswered questions and the story behind the story.  These people want to inspire you to act - to take the next step in your journey. With these series, we help to take the right actions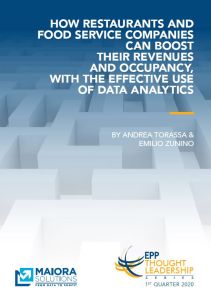 EPP Prime+ Required to access this resource
Join EPP Prime+ now and get direct access to the best resources, weekly updated with new content, webinars, dynamic talks, tools from the EPP Community.
Subscribe your team and benefit from important group discounts